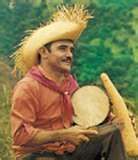 An excellent update has just been added to the
AfriColombia blog
on Puerto Rican "
jíbaro
" music (see sidebar for the list of "Blogs We Like"). The articles are in Spanish. There are also some nice album covers and MP3s.
I love this "country" music of Puerto Rico's highlands, which is heavily played around Christmas time. The long-form, improvised verse styles are influenced by Spanish/Andalucian oral poetry, and the more finely grooved Puerto Rican
guiro
, or gourd scraper, gives a characteristic, sandpaper-like groove. Some of these rhythms sound to me like distant relatives to North American jug bands. Maybe I'm not crazy, since according the article,
música jíbara
is a "favorite dish" for black Colombians in places like Palenque, Barranquilla and Carthagena.
The first singer profiled,
Chuito El de Bayamon
, is said to have been an important influence on
Hector Lavoe
. It's easy to hear it in Hector's distinctive salsa phrasing, and he even recorded several Christmas albums of jíbaro music with
Willie Colon and Yomo Toro
in the early '70s. I was discussing this one time with
Rei Alvarez of Bio Ritmo
, a Ponce native like Lavoe, and he concluded nostalgically that, had Hector lived, he probably would be making albums of jíbaro music right now. A lovely hypothetical. Come to think of it, maybe Rei should consider it one day.
Another all-time favorite in this genre is
Ramito
, whom you can also hear on the Africolombia page. I remember talking to
Yomo Toro
a few years ago about some radio shows and albums he did with Ramito in the 50s and 60s, and he recounted a gruesome story of how Ramito ended up taking his own life due to some terminal illness. A sad ending for a really, really happy guy (just look at him). Ramito had two brothers who also sang (maybe still living? don't know) and I have one CD they recorded as a threesome in the 90s. Ramito albums are around, that is to say he made many, and they sold well, or so I deduce by the fact that it's not that unusual to find them in used vinyl bins or on eBay.